LPO Entertains the Berlin Philharmonic Orchestra, 1937
Marjorie preserved many "keepsakes" from Gilbert's career and their many years together. These documents provide a wonderful insight into the entertainment industry in the late 1930's.
Of special interest are the dinner and "after dinner" menus. Gilbert also obtained autographs during the event, including that of Sir Thomas Beecham.
Covent Garden, 1939
The most beautiful and ornate printed souvenir program was produced for the Gala Performance at the Royal Opera House, by command of His majesty the King  (King George lV).  Marjorie's original ticket to the performance has also been preserved, as has the program insert containing the dress code and list of prices.
It is interesting to note that Margot Fonteyn and Sir Fredrick Ashton are named in the cast list. Although John Gilbert was not yet born, many years later he became a film director for the BBC and made a remarkable television documentary film about the life and career of Sir Fredrick Ashton.
Coronation of Queen Elizabeth II, 1953
LSO World Tour, 1964
Geoffrey was guest Co-principal Flute for this tour and Marjorie went too. Conductors were Colin Davis and Sir George Solti. The orchestra list and pay schedule are interesting for historical reasons. Note the pound is valued at #2.80 and Sir Neville Marriner is listed on bus 3 (non smoking). He was principal second violin at that time before taking up the baton.
Queen's Award for Export, 1994
When the Academy of St. Martin in the Fields won the Queen's Award for Export, her Majesty commanded the orchestra to play at Buckingham Palace for a special reception. As the manager of the orchestra, Monya had great fun making the arrangements with the palace staff and enjoyed her visits to the palace to review logistics.
"We were introduced to the Queen and the Duke of Edinburgh and the party itself was an amazing event. Wonderful food with champagne flowing like water. A thrilling occasion, never to be forgotten."
70th Birthday Bash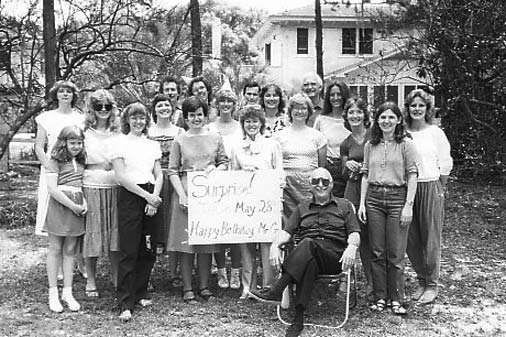 On the occasion of Gilbert's 70th birthday, a surprise party was organized by his students. Reluctant to turn 70, a celebration was not on his mind.
When the students arrived carrying a large birthday cake and a picnic basket, he willingly entered into the spirit of the festivities.
Be sure to look at the picture to see if you are in it. If you are, email Monya at: monyagilbert@gmail.com.
His finale
May 18th was a very special day for Marjorie Gilbert. At 73 years young she decided to retire on that day from her position in the Speech and Communications Department at Stetson. At 3:30pm she finished her last class and headed home in time for tea, which was an afternoon ritual in the Gilbert household. Geoffrey had a surprise for her. Not known for his expertise in the kitchen, he had made a grand effort and put together a special retirement tea for Marjorie in order to mark the occasion. There was a cake and the best china was brought out to celebrate the big event.
They spent a wonderful hour together and as usual Geoffrey went to the studio to practice before dinner. When he failed to come to the main house at 6pm, in answer to the intercom, Marjorie went over to look for him. He had finished his practice, placed his flute on a table beside him and sat down in his armchair and died. He looked calm and peaceful, as if he had dropped off to sleep.