Geoffrey Winzer Gilbert (1914 – 1989)
"My father was a professional musician. He played the oboe in a music hall near Penny Lane (Liverpool), and my mother had been a secretary to the Lord Mayor at one time. Then she started her own school, a commercial school, and taught all those diverse subjects you would need for office work. So there was always plenty of access to good literature. I read everything I could get my hands on… and so what education I had came from books." — Geoffrey Gilbert
Born in Liverpool, England. Geoffrey was always quite small for his age and when he was playing in the cinema orchestra at the tender age of 12, the management required his father to come and collect his pay packet at the end of the week, fearing that the little boy might not be able to get it home safely. As Grandpa Gilbert was quite often out of work at that time the money was crucial to the family and its safe conduct was of the utmost importance.
For the next few years, young Gilbert turned towards many of the abundant outside playing opportunities in entertainment including amateur military bands, operatic societies, musicals, skating rinks, and circuses.
Something that most people don't know is that Geoffrey played the oboe equally well and if he had not got his first job on the flute, he had intended to be an oboist. Grandpa said he found it very frustrating that passages that he had been practicing for years, Geoffrey could play brilliantly without seemingly practicing at all.

Marjorie Forster Gilbert, nee Johnston (1916 – 1992)
Born in Belfast, Northern Ireland. Became an actress at an early age, and worked for the BBC as a child performer. She attended the Guildhall School of Music in London, where she received her L.G.S.M. While attending, she met the young and handsome Geoffrey Gilbert; she was 19. Although planning to return to Belfast to pursue a teaching career, she was persuaded by the ardent 21-year-old Gilbert to become engaged. They married two years later on February 24th, four days before her 21st birthday. Sir Thomas gave Geoffrey one day off to get married in Belfast. He played the Mozart Flute Concerto with Beecham and the LPO in Dublin the next day.
Monya Winzer Gilbert  (1939 – )
Born in London, England. Monya studied the violin at the Guildhall School of Music and Drama. At 19 she was appointed principal second violin with London's Festival Ballet Orchestra. For twelve years she traveled worldwide as a musical act. She entertained British troops stationed abroad and performed at sea for three years as an entertainer for the Cunard Line.
After moving to Florida she played with the Florida Symphony Orchestra, the Jacksonville Symphony and the Florida Orchestra in Tampa, Monya was appointed Director of the Florida International Festival in Daytona Beach from 1982 to 1987. She joined the LSO in London for a brief period before moving on to the Academy of St. Martin in the Fields in 1988, where she remained for seven years.
A highpoint of that period was when the orchestra was awarded the Queen's Award for Export. She returned to the USA in 1995 and, purely by chance discovered an "on camera" talent for television. She appeared as interviewer and associate producer of her own show about music and musicians which were broadcast on PBS for many years.
Monya retired in 2010 and is now working on a documentary film about her father.
John Selwyn Winzer Gilbert (1943 – )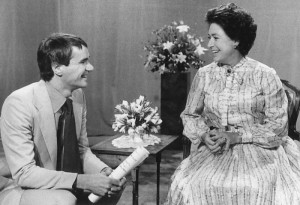 Born in London, England. John Gilbert attended St Paul's Boys' School in Hammersmith. Later he spent time at Oxford University, the Sorbonne in Paris, and studied for a year in Milan. After leaving university he joined a record company and then the BBC where he spent 15 years as a television director specializing in documentaries.
His fascinating career also included books about the British artist Aubrey Beardsley, and the dancer and choreographer Sir Fredrick Ashton. John was very much involved in the televising of the raising of the "Mary Rose", King Henry Vlll's flagship which was sunk in Portsmouth in 1510, and brought to the surface in 1982. Since then John has been involved in many interesting projects and adventures. He now lives on a barge on the Regent's canal and has five grown children.
While he was a film director for the BBC, he made a remarkable television documentary film about the life and career of Sir Fredrick Ashton. He also wrote a very fine book about Ashton's life. While directing a film on the ballet, John decided to call Buckingham palace one day to ask Princess Margaret if she would do the introduction. To his astonishment, he got through to Princess Margaret herself and she agreed.
Bobby Gilbert, parrot (1968 – 1998)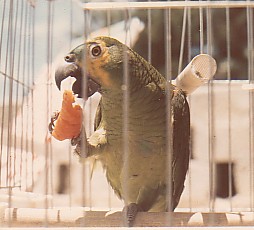 A member of the Gilbert family for over thirty years, Bobby was rescued from being thrown overboard when Monya was living on board the QE2. Highly intelligent, he had a large vocabulary and loved listening to Gilbert and Sullivan. He died in DeLand in 1998. He is greatly missed.